The Most Trusted and Referred House Painters in the Entire Weymouth and Surrounding Areas!
Big or Small, We do it ALL!
Honest Painting Services in the Boston areas.

 Weymouth, Braintree, Cohasset, Abington,Duxbury, Hanover, Hanson, Hingham, Hull,Humarock, Marshfield, Norwell, Pembroke, Rockland, Scituate, Whitman, Kingston, Milton
Professional Painting Service With Honesty & Integrity.
Customizable Painting & Appointment Times
More Than A DECADE Of Painting Experience

Fully Licensed & Insured Home Improvement Contractors

Professional Staff That's Honest & Courteous

FREE In-Person Painting Estimates

Local Professionals With Over A DECADE Of Painting Expertise.
Need Some Painting Assistance?
It's Time To Disrupt Your Monotonous Color
Bland Beiges Are Everywhere
It's Chipping And Peeling Away More And More

Water Stains Are All Over The Place

Want A Simple Way To Improve Your Property Value

You've Been Overdue For A Fresh Coat For Some Time

Residential Painting Done Right!
Speedy Painting With Peace Of Mind.
We help most of our customers within 24-48 Hours of calling us, if not sooner in most cases.
Some other local painters aren't in a hurry to help out or are sluggish in their response times to you.
We, however, believe you shouldn't have to wait forever and a day in order to receive quality painting services.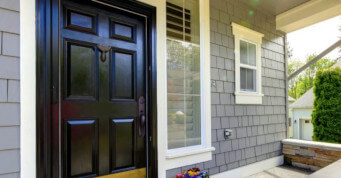 Expert Experience You Can Trust.

– Real-World ★★★★★ Google Reviews
– 1,000's Of Completed Residential Projects
– NO Unethical Upcharging For Affluent Homes
You can rely on us since we're the go-to service for Residential Painting in Weymouth, MA.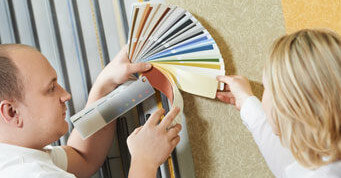 Friendly Staff That's Eager To Assist.

Bruce, the Owner & Operator here at ProShield Painters, will answer the phone once you give us a call today.
He'll help answer any and all questions that you may have regarding your current painting needs.
Bruce will then assist in scheduling a specific appointment time that works best for you as well.
Residential Painting Done Right!
WEYMOUTH, MA
Oak Cabinet Painting Ormond Weymouth, MA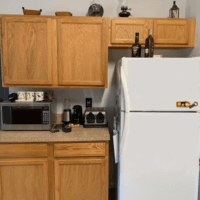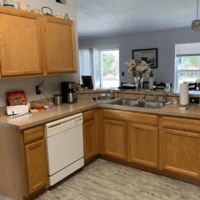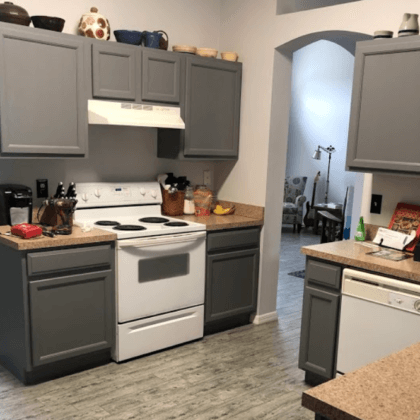 Location of Job: Weymouth, MA
When: Apr 25, 2019
Service Category: Residential
Services Performed: Residential Kitchen Oak Cabinet Painting
Brief Explanation:
Why Didn't They Choose White?
We recently helped out with the total transformation of a couple's plain oak kitchen cabinets by helping them become absolute glimmering works of elegant, grey-stroked art.
While white kitchen cabinets are all the rage right now, especially for homeowners in the New England area, it certainly isn't a catch-all, win-all solution for every customer out there.
In this specific married couple's case in which we helped, they didn't quite want the feel of plain white cabinetry in their home.
Instead, they ended up being lead towards a quite luscious and sophisticated blue-grey slate color choice which helped to catapult their kitchen from the mid-1970s straight into the fresh, modern year of 2019.
We perform this type of service a fair bit, so we know by now what tends to work best, what doesn't, and how to make every residential cabinet painting project look as if it came straight out of a housekeeping magazine.
No matter how old or new your cabinets may be, you're bound to receive amazing results once you choose us to help out when it comes to Oak Cabinet Painting in Weymouth, Massachusetts.
WEYMOUTH, MA
Business Painting Weymouth, MA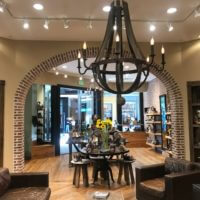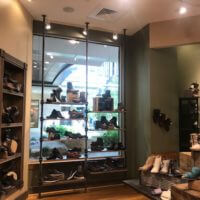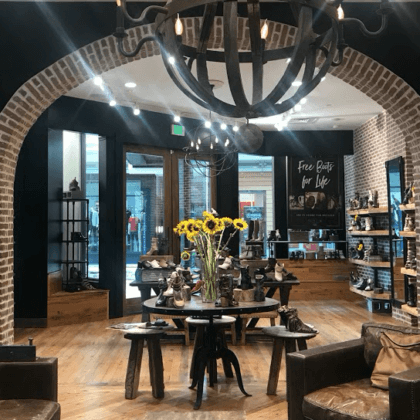 Location of Job: Weymouth, MA
When: Mar 27, 2019
Service Category: Business
Services Performed: Show-room
Brief Explanation:
Where Did This Project Take Place?
We recently repainted a Luxury Shoe Store near our home town of Weymouth.
Thankfully, the reason for us coming out to paint the place wasn't because there were any blatant issues with the previous paint job or any peeling occurring.
The owner of the store simply thought that her establishment had been long overdue for an updated look, and we couldn't have agreed more.
We ended up transforming the store's look from a tamed, beige brown into a sleek jet-black that really helps to make the rustic brick backdrop and hardwood flooring pop.
This color choice even helps to furth accentuates these designer, dark-toned shoes since many of the display models mostly appeared to come in black, brown, or a soft carmelized leather.
We're the best choice when it comes to retail & store Business Painting in Weymouth, MA.
WEYMOUTH, MA
Cabinet Refinishing Weymouth, MA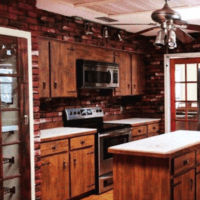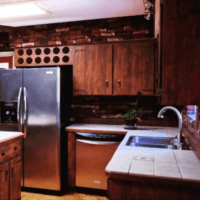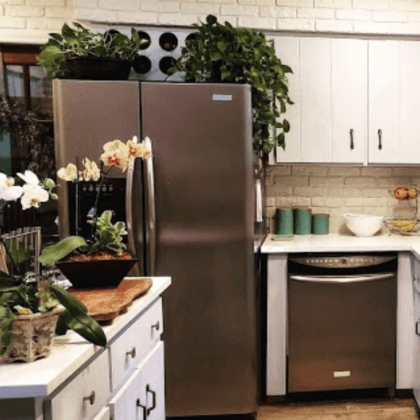 Location of Job: Weymouth, MA
When: Mar 21, 2019
Service Category: Residential
Services Performed: Kitchen Cabinets
Brief Explanation:
How Long Did This Take To Paint?
This recent painting project involved assisting a local native in the Weymouth, MA area with some cabinet refinishing that they'd long been putting off.
While this customer's previous kitchen was still quite sophisticated and more consistent than most, their brand new and improved white kitchen cabinets helped to completely change the entire look and feel of their cooking space.
It took about two to threes days for us to start and fully complete refinishing these cabinets.
While we certainly pay attention to detail and take our time, there's no reason a reasonably sized project such as this should take anywhere near a week, as some other painting companies may sometime take.
Once all of our work was completed for this customer, this entire kitchen space looked like it came straight out of a housekeeping and design magazine!
Needless to say, this customer was blown away by the results of our painting services which have indirectly become the bedrock standard for other local cabinet painting companies.
Our service is personable and reliable when it comes to meeting all of your specific needs for Cabinet Refinishing in and near Weymouth, MA.
ProShield did a great job painting the interior of my condo! Bruce is very responsive and available to answer any of my questions!
ProShield Painters did an excellent job painting my decks and railings. The price was very reasonable and they got the job completed very quickly. Bruce, the owner, was prompt and thorough in his communications. Highly recommend!
I was impressed by the quality of the work and the price. They were helpful with the paint selection, the brand I needed and the type of paint. The job was easy to schedule. Communication was rather challenging at first but did get better. Good details and craftsmanship. Super nice workers and very professional.
The process from start to end was very quick and professional. Very easy to work with and accommodating with my times. Thank you!
Serving in Weymouth & Surrounding Areas
owner@proshieldexteriors.com
No matter the project you have in mind or its scope - our team would be happy to help. Make Pro shield Painters your go-to painting service! You'll get more than a fresh look. You'll get peace of mind for years to come.